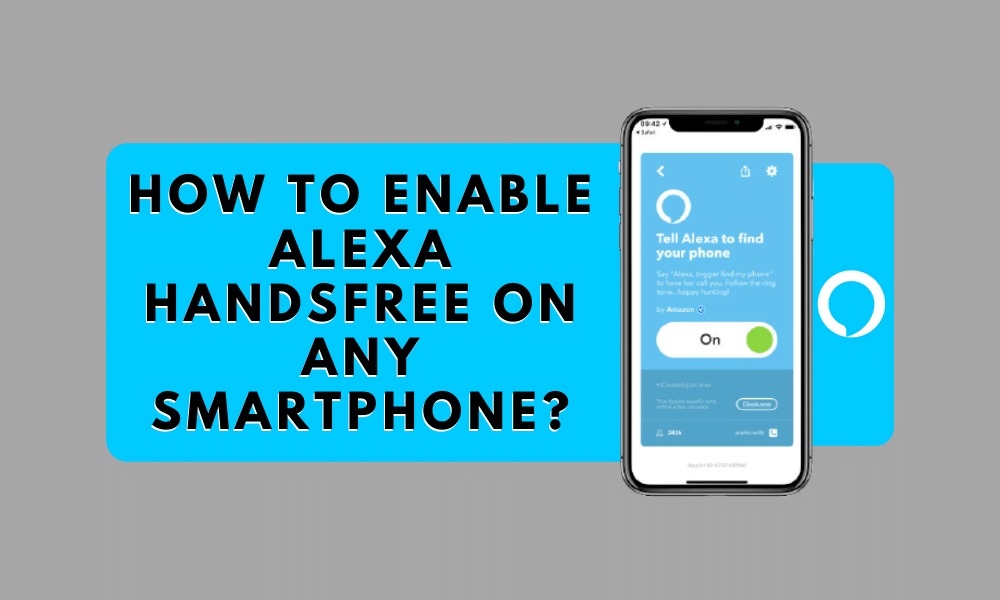 How to enable Alexa Handsfree on any smartphone best 21
[vc_row][vc_column][vc_column_text]I hope you are familiar with Alexa. If not, no worries. I will give you a brief idea about it and tell you How to enable Alexa Handsfree? Basically, Alexa is a voice assistant application/device similar to google assistant. Which we are using since the advancement of android phones. You can talk with Alexa, ask questions, ask for weather details, and do shopping on your Amazon app. There are a lot of things that can be done by Alexa same as Google Assistant.
Now a lot of smartphones also supports Alexa but it does not comes pre-activated. so here are the steps by following which you can enable Alexa assistant on any Android phone.[/vc_column_text][/vc_column][/vc_row][vc_row][vc_column]
Which smartphone does support Alexa?
[vc_column_text]When I say How to enable Alexa Handsfree on any smartphone. That means your phone should be running
Android
5.0 or higher or
iOS
9.0 or higher for Apple devices.
If you qualify above requirement, bingo! go are just few steps away to enable Alexa on your mobile device.[/vc_column_text][/vc_column][/vc_row][vc_row][vc_column][vc_single_image image="8736″ img_size="500×500″ alignment="center"]
Steps to enable Alexa handsfree on any smartphone
[vc_column_text]following are the steps that you need to follow to enable it:
Open the Play Store and search for Alexa App
Download the Alexa app and launch it
After opening it, you would be asked to login/sign up
Now login to your Amazon account, if don't have one click here to create a new one: https://amzn.to/3cGCnIk
Follow the shown instructions to set up Alexa Handsfree
Don't forget to enable and allow the "Microphone" setting
Now just say "Alexa" and Alexa will be in your service.
Now if you don't get the Alexa Handsfree setup option on your screen, don't worry. Here is a alternative way to do that.[/vc_column_text]
Alternate way to enable Alexa
[vc_column_text]
Follow all the above options for app downloading and sign in
Now go to right corner of the app and there you find three horizontal bars
Inside this, go to settings
Now find Alexa app settings,
And there you see "Enable Alexa Hands Free"
Toggle the adjacent button and Boom!
Enjoy the Alexa hands free on your phone.
[/vc_column_text][/vc_column][/vc_row][vc_row][vc_column][vc_raw_html]JTNDc2NyaXB0JTIwdHlwZSUzRCUyMnRleHQlMkZqYXZhc2NyaXB0JTIyJTNFYW16bl9hc3NvY19hZF90eXBlJTIwJTNEJTIycmVzcG9uc2l2ZV9zZWFyY2hfd2lkZ2V0JTIyJTNCJTIwYW16bl9hc3NvY190cmFja2luZ19pZCUyMCUzRCUyMmZyaWswMDMtMjElMjIlM0IlMjBhbXpuX2Fzc29jX21hcmtldHBsYWNlJTIwJTNEJTIyYW1hem9uJTIyJTNCJTIwYW16bl9hc3NvY19yZWdpb24lMjAlM0QlMjJJTiUyMiUzQiUyMGFtem5fYXNzb2NfcGxhY2VtZW50JTIwJTNEJTIyJTIyJTNCJTIwYW16bl9hc3NvY19zZWFyY2hfdHlwZSUyMCUzRCUyMCUyMnNlYXJjaF93aWRnZXQlMjIlM0JhbXpuX2Fzc29jX3dpZHRoJTIwJTNEJTIyYXV0byUyMiUzQiUyMGFtem5fYXNzb2NfaGVpZ2h0JTIwJTNEJTIyMjUwJTIyJTNCJTIwYW16bl9hc3NvY19kZWZhdWx0X3NlYXJjaF9jYXRlZ29yeSUyMCUzRCUyMiUyMiUzQiUyMGFtem5fYXNzb2NfZGVmYXVsdF9zZWFyY2hfa2V5JTIwJTNEJTIyQWxleGElMjIlM0JhbXpuX2Fzc29jX3RoZW1lJTIwJTNEJTIybGlnaHQlMjIlM0IlMjBhbXpuX2Fzc29jX2JnX2NvbG9yJTIwJTNEJTIyRkZGRkZGJTIyJTNCJTIwJTNDJTJGc2NyaXB0JTNFJTNDc2NyaXB0JTIwc3JjJTNEJTIyJTJGJTJGei1pbi5hbWF6b24tYWRzeXN0ZW0uY29tJTJGd2lkZ2V0cyUyRnElM0ZTZXJ2aWNlVmVyc2lvbiUzRDIwMDcwODIyJTI2T3BlcmF0aW9uJTNER2V0U2NyaXB0JTI2SUQlM0RPbmVKUyUyNldTJTNEMSUyNk1hcmtldHBsYWNlJTNESU4lMjIlM0UlM0MlMkZzY3JpcHQlM0U=[/vc_raw_html][/vc_column][/vc_row][vc_row][vc_column][vc_single_image image="8735″ img_size="500×500″ alignment="center"]
What can Alexa do for you?
[vc_column_text]As I told you, Alexa is a smart voice assistant. Which can do your tasks by just listening to your commands. And It would be "sone pe suhaga", I mean "Icing on the cake" if you have smart devices too in your home.
It would be a perfect combination of smart home devices. If you don't know, I have a lot of IoT Smart Devices in my house and nearly everything is automated. I am also working on a smart project if succeeded I'll share a video on my YouTube channel.
My smart home includes following devices:
Smart LED Bulbs (Wi-Fi 16M color version)
Smart LED Strip (Wi-Fi 16M color, 5 meter version)
Amazon Smart Plug to operate Induction Cooker and Electric Kettle
Amazon Echo Dot (2nd Gen)
Amazon Echo Dot (3rd Gen)
Amazon Echo Flex (wall mounted)
Mi Wi-Fi Camera (for Monitoring)
Mi PIR Human Detector
Mi Door Intruder Alarm Switch
Mi Programmable Button
Mi Smart Hub
Mi Smart Socket
TP Link Smart Bulb (2 colors)
Smart Socket (6A)
etc.
Mostly all the daily use appliances on my house are controlled by an Android app and Amazon Alexa.
---
Now coming back to the point How to enable Alexa Handsfree. Now when you know how many devices I'm using with Alexa it would be easy for me to describe. What actions can it perform with my house.
Alexa can Turn ON and OFF lights and fans of my house
It can Dim my light's intensity and also can change its colors
It can schedule an Alarm or Reminder
It can shopping from my Amazon account
It can tech me anything I ask
It can answer to my silly questions
It can set a whole day routine
It can talk to you like a person
It can set Smart Plug's time when to On/Off
It can control the Wi-Fi camera
It can show the video from Prime Video (if you are using a screen enabled Alexa device)
It can show you security camera feed
It can book a cab for you
It can order food for you via Zomato
It can order groceries from Amazon Now
It can Book a movie on Book My Show
It can brief you latest news
It can tell you interesting things of the world
It can play games with you
There are tons of things that can be done Alexa. And this is the thing.[/vc_column_text][vc_raw_html]JTNDc2NyaXB0JTIwdHlwZSUzRCUyMnRleHQlMkZqYXZhc2NyaXB0JTIyJTNFYW16bl9hc3NvY19hZF90eXBlJTIwJTNEJTIycmVzcG9uc2l2ZV9zZWFyY2hfd2lkZ2V0JTIyJTNCJTIwYW16bl9hc3NvY190cmFja2luZ19pZCUyMCUzRCUyMmZyaWswMDMtMjElMjIlM0IlMjBhbXpuX2Fzc29jX21hcmtldHBsYWNlJTIwJTNEJTIyYW1hem9uJTIyJTNCJTIwYW16bl9hc3NvY19yZWdpb24lMjAlM0QlMjJJTiUyMiUzQiUyMGFtem5fYXNzb2NfcGxhY2VtZW50JTIwJTNEJTIyJTIyJTNCJTIwYW16bl9hc3NvY19zZWFyY2hfdHlwZSUyMCUzRCUyMCUyMnNlYXJjaF93aWRnZXQlMjIlM0JhbXpuX2Fzc29jX3dpZHRoJTIwJTNEJTIyYXV0byUyMiUzQiUyMGFtem5fYXNzb2NfaGVpZ2h0JTIwJTNEJTIyYXV0byUyMiUzQiUyMGFtem5fYXNzb2NfZGVmYXVsdF9zZWFyY2hfY2F0ZWdvcnklMjAlM0QlMjIlMjIlM0IlMjBhbXpuX2Fzc29jX2RlZmF1bHRfc2VhcmNoX2tleSUyMCUzRCUyMmVjaG8lMjIlM0JhbXpuX2Fzc29jX3RoZW1lJTIwJTNEJTIybGlnaHQlMjIlM0IlMjBhbXpuX2Fzc29jX2JnX2NvbG9yJTIwJTNEJTIyRkZGRkZGJTIyJTNCJTIwJTNDJTJGc2NyaXB0JTNFJTNDc2NyaXB0JTIwc3JjJTNEJTIyJTJGJTJGei1pbi5hbWF6b24tYWRzeXN0ZW0uY29tJTJGd2lkZ2V0cyUyRnElM0ZTZXJ2aWNlVmVyc2lvbiUzRDIwMDcwODIyJTI2T3BlcmF0aW9uJTNER2V0U2NyaXB0JTI2SUQlM0RPbmVKUyUyNldTJTNEMSUyNk1hcmtldHBsYWNlJTNESU4lMjIlM0UlM0MlMkZzY3JpcHQlM0U=[/vc_raw_html][/vc_column][/vc_row][vc_row][vc_column][vc_column_text]I hope now you have got the idea, How to enable Alexa Handsfree and use it. If not, what you are waiting for?
Above you can also check some Alexa enables Amazon Echo Devices. If you like to purchase one😉.
Enjoy your device! and wait for the next article on Amazon Deals.
Cheers![/vc_column_text][/vc_column][/vc_row]