Boat rockerz 255 pro plus review
3.
Boat rockerz 255 pro plus review
Boat Rockerz 255 pro plus review:
An article that I promised to write, in my last article of Audio Series. Have you missed that article? No problem, you can check here later.
Hey, how are you doing today!
I'm very fine and feeling so excited while writing this review for you.
This is going to be a deep review of Boat Rockerz 255 Pro Plus based on pure practical data and analysis. I know some people like short articles and some love the deep ones.
That's why I share data in both forms. Quick readers can read highlights and boldly written points while info lovers are advised to read the full article.
Now coming to the topic: Boat Rockerz 255 pro plus review.
I'll be covering the below points in this review for you:
Technical Specs

General Specs

Features in detail

Device usability

Things I hate about the product

Should you buy it for not

Conclusion
A quick recap of the story:
So back in time, I was looking for a pair of earphones (I'm literally sick of buying earphone), which can offer me great battery backup on less charging time.
I was scrolling through Amazon with earphones typed inside the search box and I found something amazing. There was a neckband with a quick charge and it offered 40H of battery life.
I was like, woooh! Is it for real? It was a Boat Rockerz 255 Pro Plus Review. No, not a review, it was Boat Rockerz 255 Pro Plus itself. Don't mind I was just checking your attention, hehe.
After checking the specs I made my mind to purchase it. Although there was a STAR mark on the Battery Life.
So what was that? Can you guess it?
40H of battery backup, if you are using earphones on 50% of the total volume level. It might be less for you if you listen to loud music but it was okay for me. Note it, not that great but okay.
I know you have seen this STAR strategy everywhere. Buy petrol at 50₹ per liter (star mark) and then pay 50₹ more as petrol pump service charge. It happens.
I was a Skullcandy lover, and still I'm for a few product lines. 2017 when I was checking Amazon (wow remembering those free, joyful college days) to buy a pair of earphones for consuming YouTube and Facebook stuff.
I found cheap earphones from Boat. And the model was Boat Bass Heads 255, at that time I checked the reviews and they were great. People were saying great Bass, Sound, and all positive reviews. 
Deep down I know that a ₹449 priced product can't offer me the sound signature that I was getting on my Skullcandy Method. Because it was just for media consumption and to be used very roughly. I ended up buying these.
After a few days of testing, I found the sound was okay but the ear tips were too hard. I tried all the supplied pairs, but they were still hurting my ears. So cheap material BOAT.
At last, I donated those earphones to one of my relatives by asking "if you are okay with hard tips you can keep these."
After a year ago when I started working with INTEX as PDE, I had to test a few competitors' samples and at that time I purchased Boat Rockerz 255 Pro.
They were offering a 20M charge to 4H backup plus Qualcomm's cVc technology for calls. Only after checking these, I bought those pairs. But suppose what?
The cVc technology vanished from the Amazon listing. They changed the whole description later. Maybe it was just a way to fool customers and increase their sales. God knows.
Now I purchased the "Pro Plus" just because of better battery life and 2 device connectivity.
Okay now, let's start with the technical specifications of Boat Rockerz 255 pro plus.
1. Technical Specifications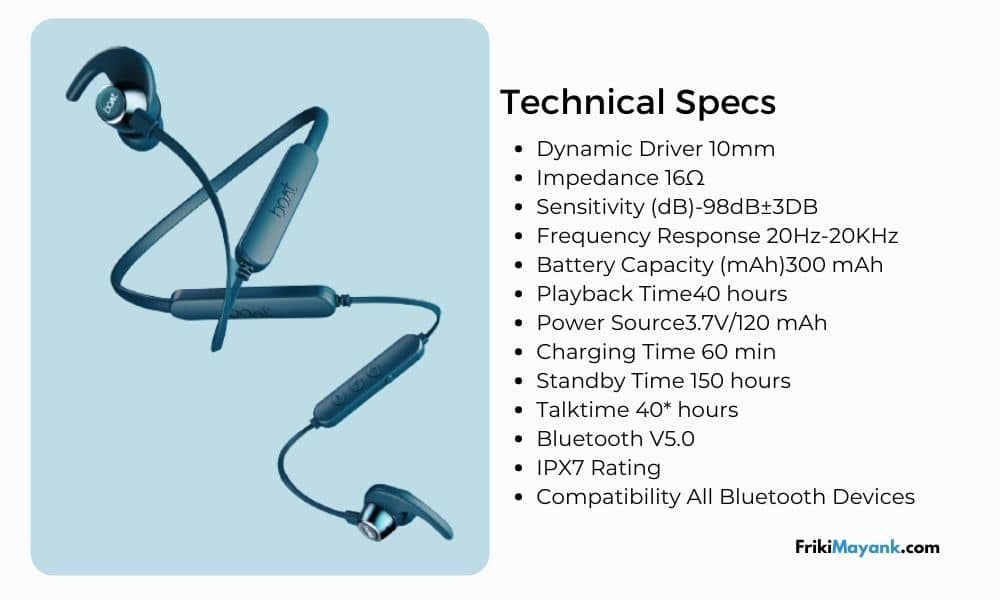 These are the neckband technical specs. How is it looks like to you, cool?
"Picture to abhi baki h mere dost", be with me I'm going to explain everything in this article.
Imagine Marketing (parent of Boat brand) listed their Boat Rockerz Pro Plus model on Amazon on July 25, 2021. Although the company was able to import it back in 2020 but somehow bigger lots came in January 2021. And the total circulating quantity is 1,63,600 as per my knowledge.
And now on Oct 21 when I found a great deal on this product I grabbed it for ₹999.
And if you are searching for some money-saving deals. Trust me, join my telegram here and you never regret it for missing great offers.
Now, let's dig deep into the article and explore the product.
Coming to the General details. Although Boat is investing too much in branding and celeb influencers. It doesn't mean, all the products and features are going to be great.
Amitabh sir, I hope who has never used Ghari detergent even for cleaning his floors is advertising for Ghari.
You take a deep breath, I'm neither an influencer nor a review guy getting samples for free to test and say wow guy buy it blindly.
Most of the blog and youtube guys are doing it. But I respect your time and efforts to read this and hence I'm focused on value giving only.
Oh, man, I am too talkative. Sorry…haha
2. General Specifications
The overall design of Boat Rockerz 255 Pro Plus is a little bit different from its predecessors. The microphone and control options that were on the collar are now moved to an inline hanging position.
And this design change reminds me of its battery capacity. The bigger the battery you have, the more space it acquires.
And these neckbands are using two 150mAh batteries, which is 300mAh in total on paper but actually, it will be around 240 to 250mAh.
All the other options are the same and there is no change in them. Same design, shark fins, and earbuds.
3. Features in Detail
I love the Dual pairing connectivity, where you connect 2 devices simultaneously. You can take calls, enjoy music and consume content. It minimizes the efforts of reconnecting devices with the change of source.
10mm drivers (speakers) are not the best in the industry but most of the brands use the same so why not Boat? I haven't seen any earphones from Boat having the bigger driver. Realme started offering 13mm drivers within ₹500. And Boat should learn from them.
A long battery was the only feature that attracted me the most. Believe me or not but getting this much backup was a great experience. When you can hang around without thinking about charging twice.
This neckband was delivered to me on Oct 20, 2021, with a 100% battery. The day it was delivered I started using it to test out the battery backup.
What do you think was run time? On these STAR marked earphones. I know you are going to be surprised but I charged them again on Nov 8, 2021. Oh, don't get too excited.
I was making calls maybe 50 to 60M a day then music for 10 to 20M each day then videos 1 – 2 hours a day. So overall it was great on battery life.
But after the second charge, there was a little drop in battery backup
Boat Rockerz 255 Pro Plus model offers IPX7 sweat and water resistance, although if you are going to examine its body very closely. You will find there are gaps in between the body closures which can lead to waterlogging. It happens, I have done the research and found the charging port and the internal circuit wires of the 255 model were damaged due to sweat/waterlog.
Though the circuit was safe and working. Why? Because Boat coated the PCB with some kind of water repellent glue or resin. And this is the same thing with this Pro Plus also.
So keep protecting your earphones from moisture otherwise you are going to last them soon.
Now coming to the next point, and I think this is the most important part.
4. Device Usability
It is good for making office calls, consuming online content on the commute, and enjoying music while jogging. As I explained to you before, Boat never supplied great ear gels or ear tips. Compared to Pro Plus and Bass head 255 ear tips these have a very thin improvement.
A. Cheap Eartips:
I don't like Boat's cheap quality ear tips so after opening the earphone box the first thing I did was to exchange the ear tips with my old Skullcandy JIB earphones. My JIB is a deal but ear tips are still alive.
B. The night is out:
Now, If you come under those people, who tend to sleep while wearing their earphones (which I also do sometimes, when I forget). These buds are not very comfortable. I tried it and the next day was very painful my ears…hehe
I have to try each and everything to write an in-depth review. That's why I write very few of them.
C. Backup and Charging:
No doubt about the charging speed. To date, I have charged it only 2 times and even today it is still 40% charged. The charging measures are also correct. And I appreciate Boat for this.
D. Sound:
It's always been a very interesting part for me. I already busted a few speakers while taking the frequency response test. Everyone has their own judging scale. Like I love deep bass and clear mids. Maybe you love the treble most.
In my test case Boat Rockerz 255 Pro Plus offers a balanced sound. Most of the earphones produce frequencies between 20 to 20KHz. I used the same to test these because I don't want to damage its drivers. But I have an idea if you can send me a fresh model. I'll test it for you below 20Hz above 20KHz. What do you say? Haha
on a 20-20KHz scale, the treble is good, mids are soft and vocals are not very clear, some lower frequencies are overlapping them. It does not offer deep Bass, which I love the most but as per price point of view it is okay, I'm compromising.
E. Carry around:
Once you have purchased a product. Managing and carrying it becomes the next headache. Here you are getting the magnetic option for organizing earbuds. But I found these wires a little bit longer than the 255 Pro model. I already explained the use cases under the main usability heading.
5. Things I hate about 255 Pro Plus
Every device has its own pros and cons. When I purchased my very first power bank. It was only 5200mAh from a brand called FishEye. An eye-catching sweet, little power bank that has no usability.
It takes too much time to charge and after a few days, one battery indicator got fused. But I loved it because of its portability, fast charging feature and there was a carrying case. That can be attached to your belt.
Now here are a few points that could be better:
No Magnetic On/Off:

Earphones offer magnets to just organize earbuds. It could be better if they can offer an On/Off option with that.
No ENC

:

Realme offers an ENC feature in their ₹1200 costing Buds 2 Neo earphones. I think Boat can offer it too while maintaining a ₹1500 price tag.

Better Ear Tips:

Have you noticed this? Boat supplies approx similar ear tips with every earphone. They should increase the quality a little for longer use.

Cheap plastic
Oh, man, there are so many negative points. No no, it is not all about making a negative review. I'm just trying to show you the real image.
6. Should you buy it or not?
After reading all this you might be confused. But if your purpose for using these earphones is clear then there would be no confusion in purchase.
If you are looking for an earphone that has a Great battery life (40H @ 50% volume) and you are also looking for a fast charge with 2 device connectivity using the same earphone. And earphones which can produce good music for you.
Dude go for it. It is the best choice.
And if you are looking for something extraordinary and the features included which are mentioned under the "things I hate about" heading.  Then I request you to increase the budget a little bit and take a look at Noise Flair. You can also check this product's highlights in this article (click here).
In this Boat Rockerz 255 pro plus review, I have mentioned everything about the product and its features. Now it's all up to you, what your requirements are and does it fit them.
For me, I was looking for an earphone offering a dual pairing option with decent sound and great battery life and this was a great fit under ₹999 (purchased during big billion).
And yes, If I forget to explain anything in this article you can always ask in the comments below and I would love to answer all of your queries.
If you don't want to miss my updates you can join my newsletter. And if you are interested in Amazon deals join my telegram channel (here).
Have a great time and I'll see you next time.
Take care
Mayank Pandey