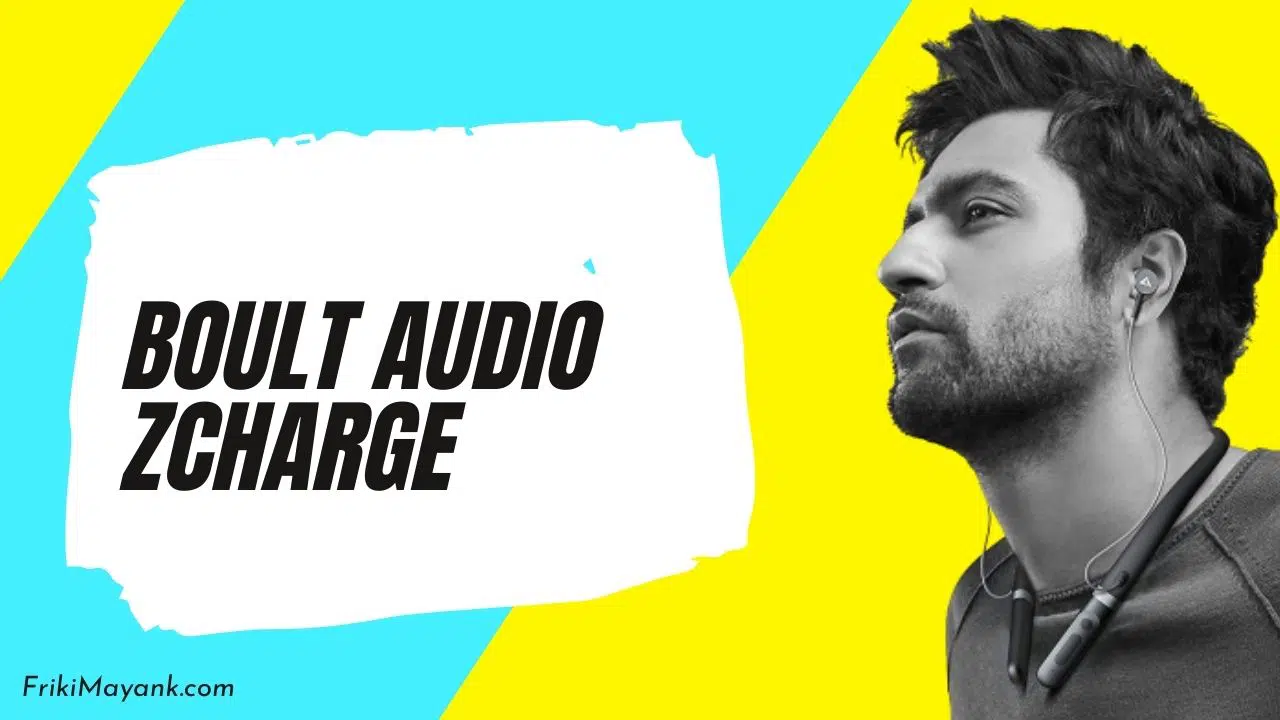 Best Boult Audio ZCharge Review India 2022
Boult Audio ZCharge review, This is the most awaited article I'm writing today that I was planning to write for a long time. I know I'm too late in writing but I'm trying to cover every detail of the Boult Audio ZCharge in this article.
So tight up your seat belts and be ready to dive deep into the depth of Boult Audio ZCharge Review.
Hey, there I'm Mayank Pandey aka FrikiMayank and you are reading Boult Audio ZCharge Review. I hope you and your family are doing well.
Although the state governments are not forcing us to follow CoVid restrictions. But if you see the current situation of China, it is bad. So I request you to use masks and carry other precaution tools (like sanitizers) for your own safety, and wear them as and when required.
Now coming back to the point, that is Boult Audio ZCharge Review. So I also covered a video on it. And now onwards I'll try to make and embed product related videos to the article. it makes easy for some of our friends who wants to watch the review instead of reading. You can visit my youtube channel here.
Boult Audio ZCharge is a Neckband type audio accessory which was launched last December 2021. While carrying some good specs this device also captured a good hold in the market.
I have tested the Boult Audio Zcharge for more than two weeks and based upon that I'm going to cover each and every detail here in this article.
Quick specs of Boult Audio ZCharge
14.2mm Driver

200mAh battery

IPX5 water resistant

Onboard media control options

ENC for better calling experience

Fast charging option

Up to 40H of battery life

5V Type C charging port
I'm also adding a quick index in the beginning of this article you that you can navigate to different headings easily.
Overview of Boult Audio ZCharge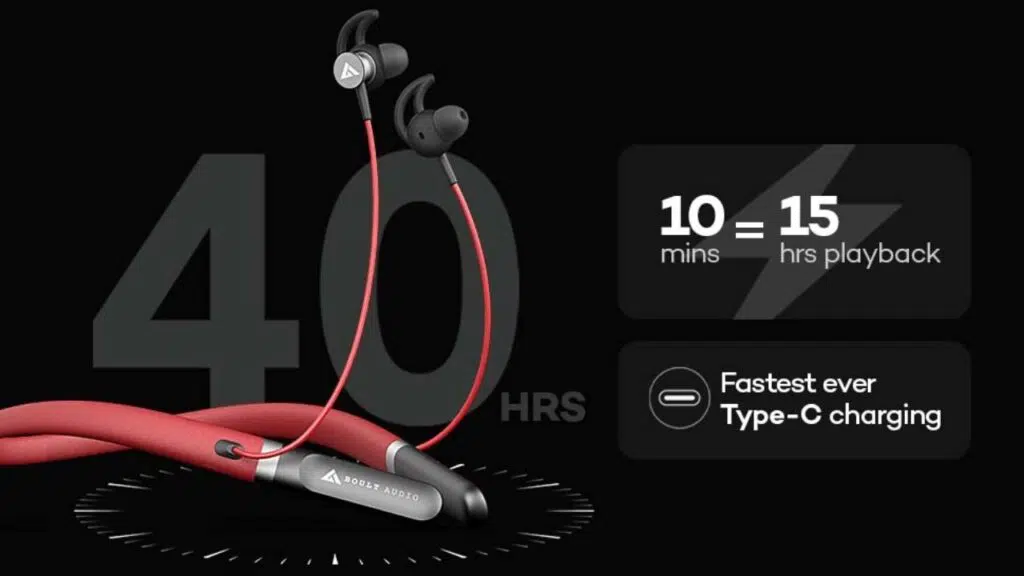 Boult Audio ZCharge is a powerful music instrument for Punchy Bass lovers like me. While maintaining the calling and audio quality this neckband also satisfies our longer battery needs. It offers 40 hours of battery life. Which may vary depending on the volume levels and type of audios you have played. But the overall experience is good. ZCharge initially looks a bit bulky but it's just 125 grams.
Looks are good and due to its silicon band and matte finish tips, it feels very good in hands. Boult Audio Zcharge comes with a Type C charging cable, User manual, a ₹100 gift card and 2 extra pairs of interchangeable ear tips.
So this was the overview of the product, now lets process further with the technical details of the product. And this is the area which I like the most about any product.
Battery: 200mAh
Power Input: 5V 1A
Driver size: 14.2mm
Bluetooth: 5.2
Bluetooth Range: 10m
Frequency Response: 20Hz – 20KHz
Water Resistance: IPX5
Fast Charging; 10min charge – 15H playtime
ENC: Available for Noise free Calls
Media controls: Play/Pause, Vol+, Vol -, Power Button
There are only 2 things that make a product perfect. Technology and Looks, do you agree or not? And this product is a perfect combination of both.
While you are getting a fast charge option on one hand Another hand it offers the best in class 40H of battery backup. Isn't that amazing?
Boult Audio ZCharge is equipped with a 14.2mm driver. This thing attracts me a lot towards it. And I'm pretty sure if you are a Bass Lover, you are definitely going to love the Bass produced by this product.
IPX5 rating gives us the freedom against water splashes and sweat. Which makes it an even more friendly option for sports and workouts. Although I haven't tested the workout sweat proofing. As you can see "how healthy I am?" hahaha. But I have checked internally it has the water proof coating.
After 14.2mm drivers and 40H battery backup the one thing that keeps me engaging with this product is the ENC for calls. ENC stands for Environmental Noise Cancellation. If you want to deeply understand the ENC and ANC. You can click here to read more about it.
So I have tried calling in two different environments, one was heavy traffic and the other was a quiet office area. If you want to check the results kindly check out my video review on Boult Audio ZCharge here or Scroll up to watch the full video.
Bluetooth 5.2 maintains a great connection between ZCharge and the mobile phone. The on-collar controls offer you freedom to control Music and Calls with just a minimal effort. It has the power On/Off, volume up/down, music next and previous, total 3 multi functioning buttons to control your multimedia device.
Highlights and Pros of the Product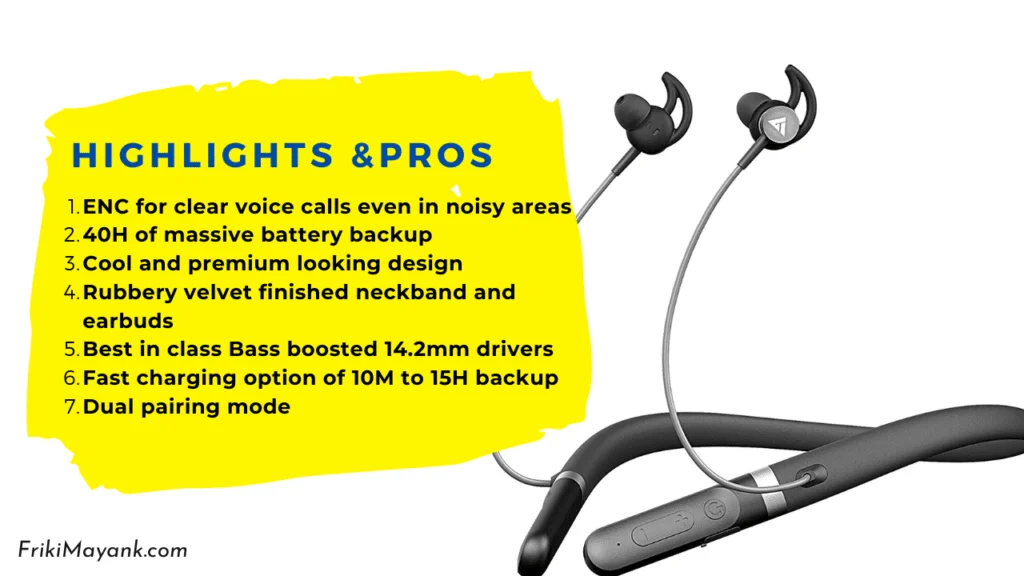 I have explained all the above points earlier but I think it's time to explain each thing in more detail. So that you can get an idea about the sound, mic, and other qualities of Boult Audio ZCharge. Let's start with the Sound first.
Sound Quality:
Boult Audio ZCharge got the best sound quality as per its price band and when compared with competitors. If you are a Bass lover then you can treat it like a small DJ. Which is always ready for you to play its high-quality sound.
I was comparing it with 2 different products which I have bought and tested earlier. So one was Boat 255 Pro Plus and the other one was Realme Buds Pro.
I found Boult Audio ZCharge is a clear winner here. It sounds the same as Realme buds pro which cost me ₹3999. And ENC and sound quality are better than Boat 255 Pro Plus in every aspect.
For the treble region between 4KHz to 8KHz range and above it misses a bit of clarity in vocals, otherwise, it's just the best product in the competition to go with.
Call Quality:
I told you before that I tried it in the noisy area and in the office area as well. You don't believe but in even the high traffic areas the recipient was able to listen and respond to me.
Surprisingly this quality was worse with Boat 255 Pro Plus, even though it also comes with the ENC technology.
Charging and Battery Life:
Boult claims that it has a  40H of battery life. Since I haven't tested that hard, I can't comment on this. But then you will say, "why are you then writing this Boult Audio ZCharge Review?"
I'm not saying I haven't tested anything, let me clear your confusion and share with you how I tested the battery. So I charged the neckband 100% and then started using it. Believe it or not but I charged the neckband only one time to 100% in the whole week of testing (24 to 30 Mar 2022). This means battery life is not that bad considering call and music playtime.
And if I comment on the fast charging, by charging this device for 10 minutes you can get around 12 to 14 hours of battery life at 70% volume. Which is again very good.
Why? Because if you are on a call you are going to push the volume only up to 50% (I hope so) and for music beyond the 40-50% it becomes very loud.
Considering all this I can say 12-14 hours of battery life, and it's based on my testing. Your backup and readings can always vary as per your applied preferences.
Dual pairing mode
This is also something I liked the most. This feature makes your hands completely free. This means if you have 2 mobile phones and want to connect both with single earphones, then this is the device for you. Boult Audio ZCharge lets you connect two mobile devices simultaneously to your neckband. Now you don't need to connect and switch between both devices all the time to take calls and listen to music. Although the first connected device is always treated as a Master device.
Wearability:
Wearing and carrying a device always matters a lot. You can't use a device that is too bulky or too flimsy. So to tackle this problem the aesthetics of a device should be well optimized and the overall form factor should be good.
I have used a few neckbands like Infinity Glide 120, it's a  flimsy neckband, which means a man without bones, hehe. But this is true. Handing such devices is very problematic because they go wherever they want. It's like you are carrying a snake on your shoulders.
Boult Audio ZCharge is very good in aesthetics, design, and weight distribution. Even with its bulky design, it's just 125gms. And this weight comes from the bigger driver-size metal alloy earbuds, some extra soft cushioning on buds, and neckband.
So overall it's okay to carry around unless you are able to manage its wires perfectly.
Now when you have details about all the positive points. Let's discuss some cons as well. Because there is nothing out in the world that has "Pros" but not its "Cons", it's very natural.
Now below I'm going to tell you about the cons of the product.
There are two cons that I noticed about this product.
The Ear fins (shark fins): Boult Audio ZCharge comes with only medium size ear fins installed. This means if it doesn't fit in your ears, you have to remove these. No other Shark fin options are available in the box to replace.
Control buttons are leveled the same as the neckband body. It is a bit problematic for a new user. You are not familiar with the button locations and have to struggle to find the exact function button. I think the buttons' height can be a little bit higher than the body for an easy operation.
These are a few features that are available on my other brand neckbands and all of these are great to have features. I'm listing all those below:
Magnetic Switch: You might see this kind of switch in Realme and OnePlus earphones, Boat and Noise don't offer this. A magnetic switch lets you connect your earphones to the phones while separating the buds from each other. And once you snap them back the earphones will be disconnected from the phone.

Gaming mode: So I play mobile games like COD and BGMI. That's why I think it should be there because Realme is doing it at the same price point.
These are a few cons that I have noticed in my detailed testing. Look I'm not saying the above features are going to affect the device quality or output in any means. But these are a few points that can make this device more robust than ever.
Conclusion: Should you Buy it or Not?
I hope you have read the whole article very carefully. Because that is going to help you choose this device more clearly.
But, if you have missed some points or you want to let me choose it for you. My answer is clearly YES!
This is a more robust device than Boat, Realme, OnePlus, and Noise earphones. I have tested a lot of them and the sound quality experience on ZCharge was totally awesome.
If you are a BASS lover and listen to loud music while wanting to enjoy bigger battery life with the Dual device pairing option. This product is definitely for you. Here is the link to buy this product.
If you have bought it already, don't forget to share with me your views. And if you think this article can help your family or friends, who are looking for the best neckbands. Share this article with them.
And I'll see you next time!
Mayank Pandey AKA FrikiMayank