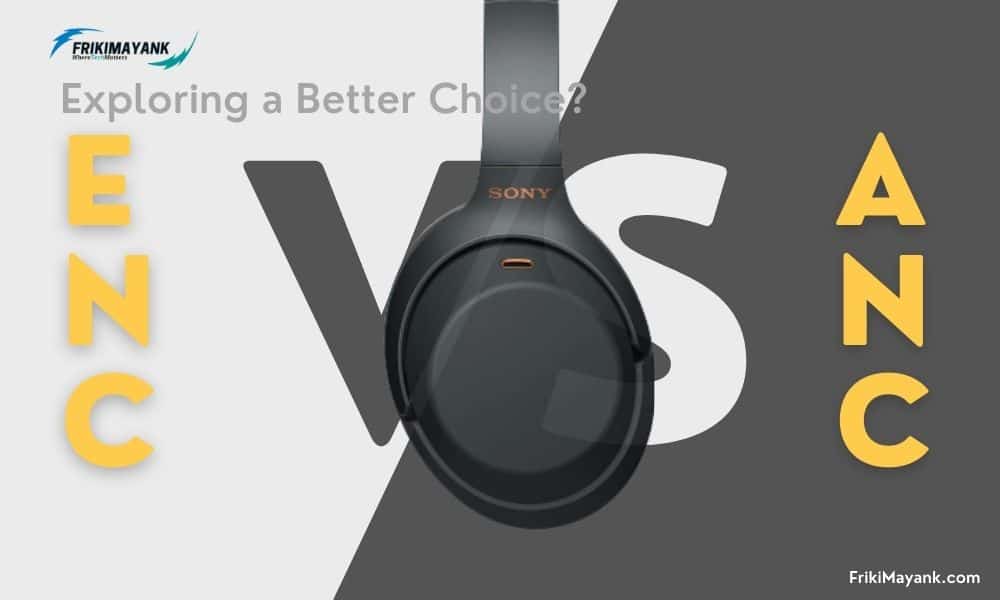 ENC vs ANC which is best? 2022 (Updated)
2.
ENC vs ANC which is best? 2022 (Updated)
ENC vs ANC which is best? It is a very confusing question while deciding on good pair of headphones.
Hey, how are you doing today!
I'm well now, Yeah I was suffering from dengue for the past few weeks. But now I'm better than before.
So today when I was using my new Boat Rockerz 255 Pro+, I had a question in my mind. It's been more than a week. Why shouldn't I write a review on these Bluetooth earphones or neckbands? Whatever you say it.
But then suddenly a second thought came. And believe me, this question is asked by many of my acquaintances. And most people barely know the difference between these.
The question is: "What is the difference between ENC and ANC?"
I know I skipped the very first question about writing the review of the Boat Rockerz 255 Pro+. Don't worry I'm going to cover that in my next blog post.
Why?
Because this question was more important to answer. If you don't understand the technology. You won't be able to differentiate between the products and you will end up buying the wrong product.
And then after you are going to blame me. Why did I never explain this to you, before making an audio product purchase?
Now coming back to the topic.
What is the difference between ENC and ANC?
I'll explain both the technologies one by one. So that you can understand them easily and at the end I'll share a Pros and Cons chart and some budget ENC and ANC earphones.
ENC stands for Environmental Noise Cancellation. 
This means it should cancel or suppress all the background noise in the environment while protecting the subject's voice.
Now ENC doesn't work all the time. It works when you are using the microphone of earphones. It takes an input of yours as well as the sounds around you. While rejecting the noise.
Do you want to know how?
Let me explain this in simple words. Whenever a sound signal is fed to the internal electronic circuit. It creates the same signal in the opposite phase which cancels to each other.
Means if I put 2 equally weighted things on each side of the balance scale. It will cancel out each other's weight and both sides will be at the same level. This means the weighing scale is acting as its initial (flat) position when there was no weight. 
ENC works the same as I explained in the above example. Until outer noise and system-generated signal are opposite and equal in gain. They will cancel out to each other and the recipient hears your clear voice.
Now coming to the next.
ANC is known as Active Noise Cancellation.
So this technology works best with overhead headphones. There are also some brands that implemented this in their earphones and neckbands very beautifully.
Active noise cancellation, cancel out or suppresses all the surrounding noise while protecting the output sound. By the output sound, I meant to music or sound you are hearing inside your headphones.
But there is a catch, ANC works only for the user who is wearing an ANC-enabled device. People generally get confused that if there is a symbol of ANC on their headphones or earphones. It will definitely go to produce the best call quality for recipients and music for them. But this is not the case
ANC works on the same concept as I shared with you before in the ENC section. But it is more focused on delivering the listening experience to the user in noisy conditions.
Basically, ANC was introduced to protect Airplane Pilot's ear damage from loud engine noise. I hope now you can relate to it better.
Now you might be getting a question. If both the technologies are nearly similar then what is the key difference?
Practical Difference Between ANC and ENC?
As I explained in the ENC section, it works only with microphones.
This means wherever you are making a call from a noisy place. ENC is going to suppress the noise and deliver a better call quality to the receiver's end.
On the other hand, the ANC has everything to do with speakers only. This means it is going to block all the noise (other than the original signal) and deliver isolated crisp sound to the listener.
So what do you think now? Was it easy to understand? do you know now ENC vs ANC which is best for you? Put it in the comments below.
Now, as I said earlier here is key difference chart for easy understanding ENC vs ANC:
ENC
ENC is Environmental Noise Cancellation

ENC works with microphones of earphones

On a call, ENC is great for the recipient (who is listening to the call)

ENC is suppress only environmental noise

ENC is best for calling purposes
ANC
ANC is Active Noise Cancellation

ANC has everything to deal with speakers

ANC is great for isolating users from outer space

ANC suppresses all the noise from surroundings

ANC is best for enjoying music, videos, and consuming other media on the commute or in noisy areas
Now after explaining ENC vs ANC which is best? I'm coming to the best ANC and ENC products that I can suggest buying based on my purchase history and experience. All the mentioned products are personally used and tested well. If you have any doubts, then this post (click here) is for you.
Believe it or not but I love ANC Devices more than ENC. You can't use these for very long durations because of deep silence but the experience is next level.
Starting with ANC Devices that I use and recommend: 
This Headphone is my all-time favorite. I treat music as my life element, which drives positivity in my veins. And these pairs of headphones are really the next level to experience nirvana.
Although I got a chance to upgrade these with the newer model 1000XM4 that was not much better. And I was not interested to invest another 30,000₹ for getting an auto-pause function that barely works (sorry SONY but this is hard truth).
Now if you are looking for a great pair of headphones, which has everything in it. Go for this one. And here are some pros:
NFC pair option

Dedicated mobile app

Custom equalizer

Adaptive Noise Cancellation

Location wise auto music modes

30H of battery backup

Button Customization

Touch control options

Quick change

Google and Alexa assistants

ANC, Ambient (transparent), and Normal Model

SONY Audio Codes (HiRes Audio, LDAC), DSEE HX, SBC, AAC

Cord and wireless mode

Fast Charge Support

And much more.
There are a lot of neckbands out there from different brands, but I chose to experiment with this one. At the time of launch, Realme said it has 30dB of noise suppression, 22 hours of backup and transparency mode, and much more.
After seeing all these new features in a neckband, I purchased it just after the launch. It was the first to support 35dB active noise cancellation with a 13mm driver.
Here are some pros of the device and if you want to read a full review on this, please navigate here.
Realme link app (not dedicated for audio)

Customizable buttons (prefixed options)

13.6mm drives

Easily switch between 2 devices

Gaming mode option

Magnetic On/Off option

Water-resistant design (gym purpose)

Low latency ~ 119ms

Sony LDAC codec
So these are the TWS buds, if you want to get rid of wires totally then you can consider this one. But Never expect a Great Battery Life on these kinds of TWS buds. Although my Samsung Buds Pro is quite good and they offer more than 8 – 10H of backup as per my usage pattern.
Now coming back to Buds Q2. I haven't spent too much time with these but according to its pricing to features ratio. These are decent to have.
Here are some highlights of the buds:
Fast charging support (nowadays, everyone wants that)

Bluetooth Version 5.2 (expect good battery life and strong connection)

AAC and SBC (No HiRes option only general codecs)

28H of total backup (with case)

Up to 25dB of noise cancellation (people's chit chat, vehicle noises, environmental noise suppression)
Although there are many ANC devices out there, my focus is to use and review only those which have a great cost to features ratio.
Best ENC Devices that I recommend:
This is the first product that catches my eyes because it is offering the best cost to features ratio. While it is priced very aggressively it offers both ANC and ENC (which I'm missing in Realme Buds Pro). But every product comes with its own pros and cons. Although I don't love its design very much, it might look good to you. Personal design choice…hehehe.
Coming to the pros:
ANC and ENC both offered

Low latency (~125ms) where Realme has lower (~119ms) latency

IPX5 sweatproof

20H long battery life (depending upon usage)

25dB Active Noise Cancellation
This is also a decent choice for ENC earphones if you don't like my 1st option. Why? Because it has some great features but lacks ANC while priced the same as Mi Neckband.
Here are the highlights:
ENC for clear voice 

Fast charging support (8M charge 8H playback)

Touch control options

Massive 35H playback time

Magnetic On/Off supported (Mi don't have this)

Dual microphone technology
So these were my suggestions for ENC and ANC models. If you want to explore more models, please click here.
I hope you have a clear definition of ENC and ANC and understand ENC vs ANC which is best? for you. Now, none can fool you with these 2 words at least.
And as promised I'm going to write a review on Boat Rockerz 255 Pro+ in my next article. If you are not subscribed to my newsletter click here to subscribe to it now for valuable future updates.
And if you love shopping and what to know about Super Saving Deals before they go off. To save some extra money on purchases, you can join my telegram channel:  here
I'm also planning to write a post, how I helped my friends and family save huge on their Big Billion and Diwali sale purchases.
Enjoy your time. See you next time. Take care
Mayank Pandey