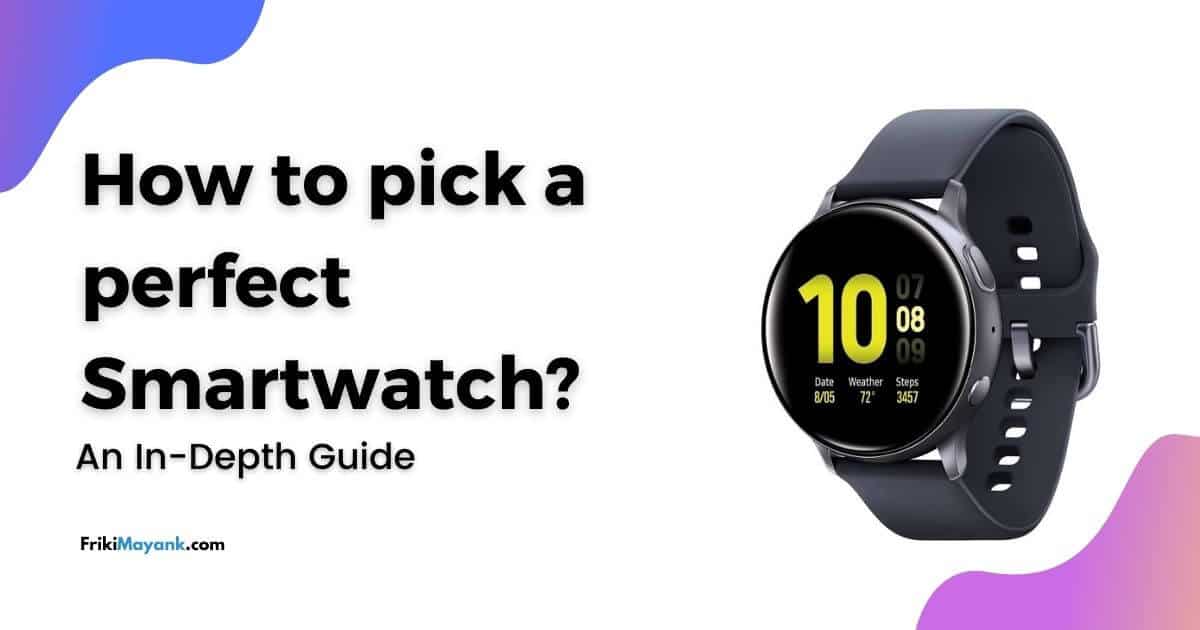 How to pick a perfect Smartwatch India 2023
1.
How to pick a perfect Smartwatch India 2023
How to pick a perfect Smartwatch?
A big question, whenever you are trying to enter in the smartwatch search. Basically, Smartwatches and smart brands have become an essential part of our life. This article "Smartwatch Buying Guide India 2022" is specially written How to pick a perfect Smartwatch which covers all the points in depth that you need to know before buying a perfect Smartwatch.
I wrote everything in a way that you can understand, why that particular thing is being used with the smartwatch? and do you really need that on your smartwatch?
why I wrote this article in depth? Because whenever I visit online. I see people are asking I need a "Smartwatch Buying Guide India 2022", "Smartwatch Buying Guide India 2022". And even my known called me a few times to ask "Smartwatch Buying Guide India 2022"
So the article is here. This is not just a simple yet robust smartwatch selection process. It will help you choose the best companion while maintaining your budget to features ratio.
Below are the points that I am going to cover in this "Smartwatch Buying Guide India 2022" article for you.
Smartwatch Buying Guide India 2022
Choose a smartwatch that suits your hand
Check the compatibility with your phone
App updates and watch software updates
Check for memory, RAM, and ROM
Check Battery life offered (most important)
Check Bluetooth connectivity range
Check what things you can customize in the watch (watch face, straps, etc.)
Type of display offered (TFT, LCD, LED, OLED, AMOLED)
These are a few things that you need to keep in mind while selecting a smartwatch.
Now, below I'm sharing in-depth topics that will give you a detailed idea about each and everything about a smartwatch.
What is a smartwatch?
Why do you need a smartwatch?
Types of smartwatches?
Things to check while considering a smartwatch?

Smartwatch OS
App compatibility
Sensors available
Battery life
Fitness Features
Customization – swappable bands -Watch faces -other accessories
Pricing

What kind of smartwatch is better for you?
Which companies are the best brands in smartwatches?
My Top picks from smartwatches under ₹5000?
So, here are a few recommendations you can check for smartwatches and smart bands. I'll start with smart bands. After this, we will read the theory. But you are always free to skip and scroll to the theory first. 
Best Budget Smart bands India 2022
Best Budget Smartwatches India 2022
Best Smartwatches to buy India 2022
Note: check compatibility with your phone before buying.
And now let's deep dive into the smartwatch puraan.
An overview of the smartwatch market
I know you have searched a lot for smartwatches previously and are still searching to get the perfect one. But the smartwatch market is flooded with many brands and somehow, you landed on this article.  Basically, budget smartwatches are nothing but a wider version of regular smart bands.
So without wasting time let's start the "Smartwatch Buying Guide India 2022" article.
Smartwatch is more than a digital version of your classical watches. It has a rechargeable battery, a good screen, some sensors to track your overall health data, and of course a lot of customization possibilities.
These watches can be used as a fitness tracker, a notifier screen, quick phone settings toggle, payments, map navigation, and much more.
So this was a general overview. The question is why do you even need a smartwatch? then who will read this "How to pick a perfect smartwatch" article? Oh, I'm just kidding.
Why do you need a smartwatch?
If you are someone who is bored of checking his phone all the time, whenever a call rings or to check an OTP, or to track other reminders. Smartwatches are the best solution for you.
Smartwatch is a small replica of your phone, which connects with your phone either via Bluetooth or WiFi connection and offers your somewhat phone-like functionality. 
But remember it is not a standalone phone. You always need a phone to operate your smartwatch even for changing its time. Then "how to pick a perfect smartwatch" and what is the use of it?
Perfect use of a smartwatch can make your life easier by following things:
Tracking your fitness and health data and alarm you.
Send all the notifications on your wrist without bothering you to pull out your phone.
Setup reminders, alarms, stopwatch
Act as a virtual assistant using Google Assistant, Siri, or Alexa
Making phone calls, checking social notifications, doing NFC payments, Map navigation, and much more.
Now I hope you have a clear idea of what a smartwatch can do. You can also identify your pain points from the above list that can be resolved using a smartwatch. Coming to the next point of How to pick a perfect smartwatch guide.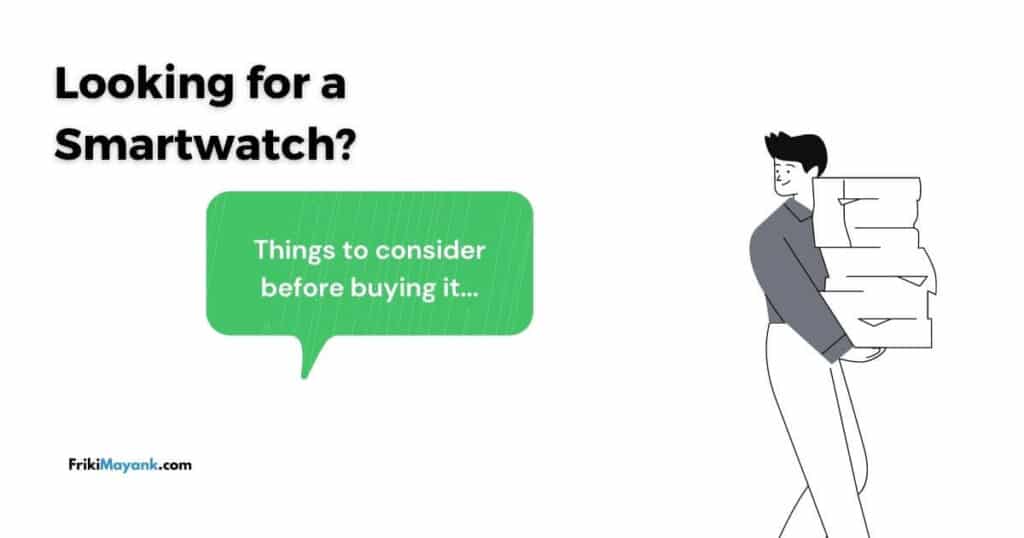 Things to consider before buying a smartwatch:
Type of smartwatch
Smartwatch compatibility
Type of screen of the smartwatch
Equipped fitness sensors
Chipset, RAM, and ROM
Display size, resolution, and PPI
IPXX rating
Custom and no of available watch faces
Interchangeable straps option
Price (most importantly)
Now let me pick the most important headings for you, and explain them in detail. This way you will understand why these things are so important to know.
You might be thinking there are 2 types of smartwatch segment: Smartwatch and Smartband.
But that is not the truth, apart from these, smartwatches have other categories too.
General-purpose smartwatch: These smartwatches are used as daily drivers. Offers Fitness, Notifications, GPS, Remote phone options, and a few other options on your wrist. But these are not made to do a specific task like fitness or satellite tracking and that's why they are called General purpose watches. Ex. Apple/Samsung watches.
Fitness Focused: The main purpose of these watches is to track daily fitness and record overall health data. It can help you check your Heart rate, Sleep quality, Blood Oxygen stats. These are also capable of offering a few mobile notifications too. Ex. Fitbit/Garmin.
GPS Watches: These watches are made for travelers for navigation and routing purposes. With the help of Global positioning, it helps them find their way.
Hybrid Smartwatch: These watches may look like a classical watch but they are packed with all the smartwatch features. Ex. TicWatch3/Casio watch.
Budget Watches/Fitness Bands: These are general-purpose watches/bands with limited functionalities. Offers nearly accurate fitness tracking, phone notifications, some remote operations like camera, music control, remote calling, and find my phone-like options. *The market is flooded with only these kinds of bands and smartwatches.
I hope, now you have an idea what kind of smartwatch you are looking for and "how to pick a perfect smartwatch". But it's not over here. Without knowing the features and functionality you won't be able to choose the perfect watch.
so "Picture Abhi Baki hai mere dost", above things are not enough to judge a watch, those are just a few aesthetics-related things, Now let's go deeper.
2. Smartwatch compatibility:
This is a very common issue with smartwatches and bands. We always get excited and buy an incompatible product for us. Don't worry you are not the only one, I'm there too and that's why this "How to pick a perfect smartwatch" article is too. Hehe
Now when you know you are spending a premium cost. Then why shouldn't be careful about your decision? All the watches are not compatible with the cross platforms.
It is most important to check if your Smartwatch is fully compatible with your Smartphones and operating system.
For example, the Apple Watch only supports Apple and some Android watches like Vivo only supports the Android ecosystem.
So be careful in the selection and check the app-to-device compatibility first before making a payment to the seller.
Now you are getting thought to kill me, like what Mayank, seriously. Is it going to impact my watch experience?
Stop writing these lengthy "Gyan wale articles", hahaha
But my dear this is the truth, "Jo dikhta hai wohi bikta h" in English "what sells is sold". Now let me explain how.
Answer me a question first: To run your watch for a longer time, what do you need? Of course a charger. Seriously, Poor joke.
You need a longer battery, and a longer battery can only be achieved by a low battery-consuming screen.  Now you question me, why just screen? Because all the other components than the screen used to build your smartwatch consume only 30 to 40% of the total battery charge. Because they are small in size and do not radiate as much energy (light/heat) as your screen does.
I'm not going very deep but give you a general idea about displays. And then you will understand displays better.
LCD: This is known as Liquid Crystal Display, this display works on light modulating properties of liquid crystals which are sandwiched between 2 glass layers. These produce average picture quality with low color contrast and sharpness. This display type consumes the most power as compared to other display types.
LED: You might have heard this term being used with mobile phones and TV displays and with light bulbs too. Basically, this display type uses many small Light Emitting Diodes to form a visual on the screen. This offers better colors, high brightness, good image quality while consuming less power.
OLED: OLED is an Organic LED display. They may sound like LED displays but these can produce deep blacks, best contrast, and picture quality. These displays use less battery and offer longer watch usage.
AMOLED: AMOLED is a type of enhanced OLED display. And named Active Matrix OLED. Where each and every pixel is controlled by a separate controller. Hence these displays offer Always On Display features too. So if you are looking for "AOD" consider this display type with your watch. These are the best among all the display types.
So these are the most popular display options in the market used with Smartwatches. Now let's move towards the fitness sensors and their types.
4. Fitness sensors
Sensors are the most important part of any electronic device to perform reactions based on different actions. Like showing a high heart rate alert when you are running fast.
There are the following types of sensors that can be present on your watch, depending upon watch type, size, and price segment.
Heart Rate Sensor: This is a very basic sensor that is available on each and every smartwatch today. Basically, it detects your heart rate with the help of light being absorbed by the circulating blood.
SPO2 sensor: After CoVid this sensor is in very high demand. It detects the oxygen level of the pulsating blood and alerts you when lower than a certain level.
GPS sensor: This sensor is being used to track your location records during various exercise modes like outdoor running, cycling, etc. There are two kinds of GPS being used on smartwatches. 1. Assisted: means it uses the phone's GPS to track. 2. Dedicated: this means the watch has its own standalone GPS sensor on the motherboard to track location. It is very useful in those conditions when you don't want to carry your phone on outdoor sports.
Pedometer: After the Heart rate and SPO2 sensors, this is also a must-have sensor on a smartwatch. It helps you track down your footsteps accurately and reminds you regarding daily walking goals and distance covered in different sports modes.
ECG: It is known as an electrocardiogram, and is used to check your heart's rhythm and electrical activities. This sensor comes under the premium segment and is offered by a few limited brands like Samsung and Apple, etc.
Temperature sensor: This is a newly introduced sensor after the CoVid. Basically, this sensor gives details about your body's skin temperature. And this can also alarm you about unusual or high temperatures.
Sleep monitoring: This is not a standalone sensor, rather a mixture of HR, SPO2, and Gyroscope (pedometer) sensors. All these sensors detect body movements, REM, deep sleep, light sleep information based on body movements during sleep. While SPO2 and HR measure your pulse rate and Oxygen levels to alarm you if required.
Note: All these sensors are not very accurate and can't be used for medical purposes. These can only deliver you reference data, for accuracy you always need to visit a doctor.
Now I have covered all the technical data which is very important to look at when you are thinking "How to pick a perfect smartwatch?"
Now here are a few more points that also affect overall smartwatch performance.
5. Chipset, RAM, ROM & OS:
In general, people call a CPU a Chipset. The different chipset has different capabilities. Qualcomm is the one making high-end smartwatch chipsets. Then Apple, Realtek, and a few other Chinese manufacturers are doing the job very well. But a chipset is known for its processing power, request handling, and result generation. A fast and energy-efficient processor leads to a smart output.
Now if I talk about RAM, the fundamentals here are the same as a smartphone. Greater the RAM, the more apps it can handle and process in the volatile memory. Hence open new doors to powerful operations.
ROM is the storage of a smartwatch where your future smartwatch updates (if supported) are going to be stored. A few brands like Samsung, OnePlus, and Mobvoi (TicWatch) also support phones for free music. This means you can store up to 4GB of sones on to smartwatch memory and listen to them by connecting a wireless earphone to the watch itself.
OS, this is now some kind of chewable toffee. This is the short form of Operating System. Some watches do have their own OS, generally called software to better your experience. Like Samsung watches have Tizen, Wear OS, TicWatch has WearOS, Apple has their own system while other watches have their custom OS.
6. Display size, resolution, and PPI:
The display size should not be very big or too small for your wrist. A 1.7inch screen watch looks best on the wrist. It depends upon your wrist size but notes it, a Small screen can only display small content.
Displays represent their data on the screen with the help of pixels. Pixels are decided by the total Display Resolution. Greater resolution means better picture quality.
And clarity and picture quality depend on the PPI (Pixels Per Inch) of the screen. This means how many pixels are present in an inch of the display area.
This will help you identify smartwatch protection against dust and water. Greater the number is protection levels.
8. Custom and no of available watch faces and Sports Modes:
A number of watch faces: how many watch faces do you have on your watch or on your watch app. Greater watch face number means you can daily choose from many watch faces and apply them as per attire.
9. Custom watch faces
A few can be customized with your phone memory photos, available colors, text, etc.
10. Sports modes
These are used to track your all-over sports data through various exercise or workout modes. Brands are luring us by offering like 60 t0 70 sports modes on their smartwatches. Hehehehe
Do you really need that many sports modes? For me, clear NO. Why?
I just need a freestyle mode that auto-detects my activity and records the data accordingly. So, if I have this, why would I brainstorm every time to find the perfect sports mode then start working out.
11. Interchangeable straps option:
Nowadays every brand is offering this feature. But you need to be aware of it. Why is it presented to you with a smartwatch? So the funda of doing so is if you want to match your watch straps with your dress or you have broken your straps. You can buy a new pair of watch straps and use them immediately without visiting a watch smith.
12. Price (most importantly):
Look everything looks great when you have money. So, in my opinion, choose a watch which satisfies your pocket and offers you the best features in the market.
Buying a 20K watch just to receive phone notifications and to check your heart rate is a brainer. Rather I would recommend you buy a 2 or 3K Mi band or Amazfit entry-level watch.
So it's all about money and features a brand offering you at that price point.
Conclusion
In the very beginning, I mentioned to you 5 types of smartwatches. So be focused on that if you are really looking for some kind of professional Smartwatch. Otherwise, if you just need a smartwatch to track down your fitness data and to check phone notifications. Any watch under the ₹5000 budget would be great to consider. And I have mentioned all the things in the article "how to pick a perfect smartwatch".
If you want to invest more in a smartwatch consider Samsung, Apple, TicWatch, FitBit, Garmin, etc., watch brands.
I hope this "How to pick a perfect smartwatch" article will help you, your family and friends to choose a perfect smartwatch and smart band.
You can always subscribe to my newsletter for more detailed articles like this one.
Cheers
Mayank Pandey aka FrikiMayank