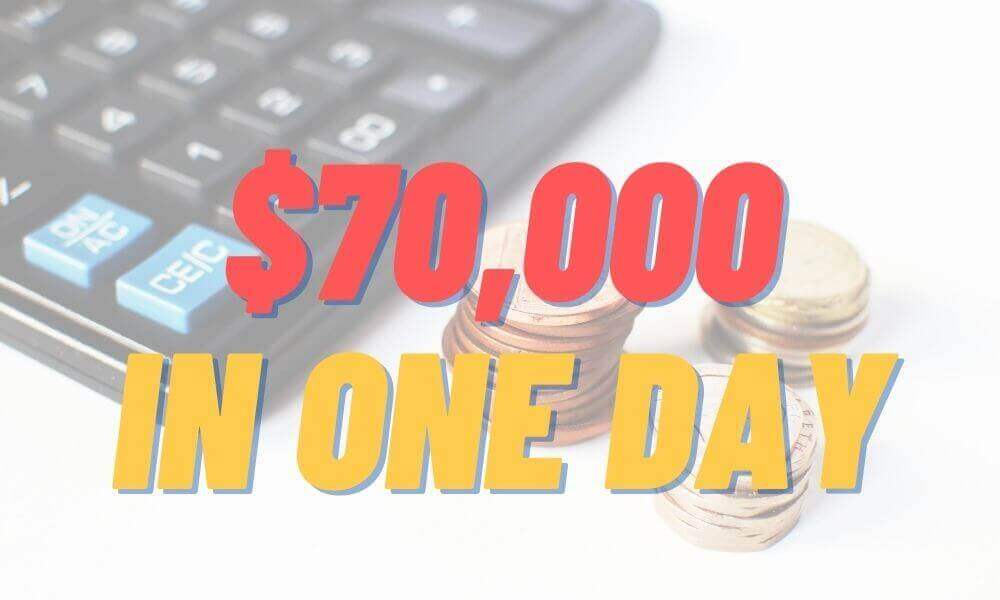 2 Victories in a single day worth $70,000
Hey, have you read the heading carefully? I made 2 Victories in a single day worth $70,000.
Yes, you are correct, It is all about $70,000.
Before moving forward, I have a question for you. Have you ever added value to anyone's life? Without expecting anything in return?
Think about it and remember your answer. Now, let's move forward and I will reveal the two victories that happened to me this 8 July 2021.
In my words – "Victory is a phenomenon which occurs when you do something valuable to someone without expecting anything and get something unexpected in return."
I'm not pretending to be good but I added value to others in every possible way. And in my opinion every value you add to others is going to come back to you someday.
with the blessings of God, I found 2 great mentors in my life, one in Digital and the second Corporate Mentor.
One mentor is continuously adding value to my life without expecting anything from me.

The second mentor and was a former employer he guided me in the up-downs of my career and still guiding
Now your mind would be throttling, why am I not coming straight to the point? Because your mind is running after those $70,000 not their value. I firstly want to pull you back from the monetary state to value giving person's state. This is most important to understand my story. 
You are going to understand it or not but I'm going to share with you the secret. Which will help you too to achieve a big success in the same way.
Firstly let me introduce you to the two biggest victories of my life to date. Then I'll tell you how you can achieve them too.
Victory #1: It is from my Digital Mentor, Mr. Deepak Kanakraju. I subscribed to his blog back in 2016 while I was wandering on the internet in search of some topics. Since then I was reading him, the content is shared only in the mail.
I was not aware of who he is, what is all about, what he does? Anything. At that time I was in college and focused on electronics more than anything else in life.
I got a few chances to get DD's certificate courses, and I joined them to just get the certificates. At that time I was in my B.tech and every senior told me your certificates are going to play a great role in job selection. But no one told me you have to cross huge barriers in the college campus drive to appear in the interview round. Yes, I never gave any interviews for jobs in my whole college life.
Now in April 2021, when I was doing a good R&D job in the electronics division with a good company, an email landed in my mailbox. 
Guess from whom? Yes, correct, it was from DD. The title was: "Leave your job today and become a Digital Freelancer." and that email changed my life. I left my job and joined DD's Internship Program, but it wasn't a victory.
Under DDIP I made a new Twitter named same to same as my YouTube channel: FrikiMayank
Now the victory happened, on July 8, 2021, in the morning when I was checking my phone's notification. I found a bell notification in the feed area with a Twitter label.
I was shocked: "My mentor DD: followed me back on Twitter". Yes, you can check it on my Twitter profile: FrikiMayank.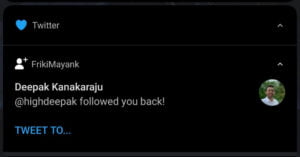 Now I have 2 followers on my new Twitter and one of them is my mentor itself. 
This was My first Victory. I shared this thing with my younger brother at least 100 times who was sitting next to me and doing his work.
I admire DD's work, his mentality, and his level of mentorship. There is no regret in associating with him. I can hear him all day and night without a single pause. This kind of knowledge, politeness, and influence he has.
Now coming to the next.
Victory #2: This is from my former employer, mentor, and a good wisher. I joined his company as a Product Development Consultant to research and develop their products and align them to production.
I was not for a very long time in the company but whatever time I gave to the company was truly devoted. We explored new ideas, made execution plans, and even planned a new product launch together. And then from nowhere corona came into existence and broke everything. 
He helped me in everything, I got covered in my tough times. And he was the only person when I got to know such a type of person and company exists. This man is Mr. Vijay.
Now coming to the present day, a few days ago I published my ebook called Master Anything. I shared an ebook download link to Vijay sir and asked for his reviews on it.
Now on 8th July 2021, I sent him another link with my blog post. This post was about Digital Marketing and how to learn it with a 30 days game plan.
I asked him to share his thoughts after reading my blog and he did the same. He shared his thoughts blended with some great motivation and positive thoughts.
Then I told him about my rising interest in Digital Marketing and helping businesses.
After a few minutes, I got a reply from him. Vijay sir said, "Mayank, below are the credentials of a site that will help you learn more about digital marketing."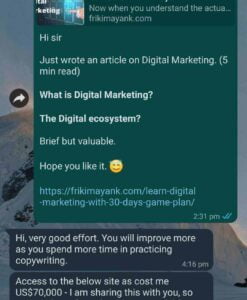 This is my Second and Biggest Victory in life.
That message had an email, password, and the login URL to a Global Digital Membership Program worth $70,000.
I was happy in the morning, to get followed back by DD now received this unconditional, unexpected reward from my mentor. You don't believe it but I shared this with every family member and close friend.
This is the biggest achievement of my life to date. No words to explain, no words to thank my boss just a blank mind filled with infinite happiness, and joy. I just wanted to tell everyone how great mentors I got in life. And if you add value to others they are going to give it back to you someday.
Now coming to the most important section of this whole inspiration.
How can you achieve the same?
Take a pen and paper and note down the below points.
Value

Trust

Quality

Understanding
1. Value: Value is more important than money. When you start adding value to someone they start admiring you.
I saw this many times, people try to sell all the time. They force their clients to sell and then upsell. This thing irritates them most as you have faced in the past too.
Now from the next time wherever you are doing something as a freelancer, as an employee, or someplace where you can serve. Try to add value to others and one day you will get back the same in an unexpected way. That day you would experience infinite joy and happiness that you never feel before.
2. Trust: It is gained over the time if you are adding value to others. Am I right? Trust is an autopilot of our lives. You can trust only those who stand with you unconditionally, giving value and being trustworthy. Trust is an ornament that is costlier than platinum and premium than diamond.
Your life will move forward if you have built trust in people and they have trust in you. No matter what you are and who you are. With your trust factor, someone always will be there for you. To back you, your position and work in any condition.
Earn the Trust, not the money, Money is volatile.
3. Quality: Third important parameter to be rewarded. Have you ever thought about why you are buying the same deodorant or cream or toothpaste of the same brand?
It is not because they are offering good artwork on the product box, or pricing or the quantity. It is only because they build your trust with their quality and they are satisfying your needs with their products.
Hope you get the point. While struggling for the trust and long-term rewards. Either they can be monitory or something else. Try to build the quality parameters and never compromise with that.
I worked with 3 different companies but no one ever raised an objection to my work and its quality. And this made me build a long-term identity, relationship, and trust.
4. Understanding: Only a great listener can be a great speaker. Most of the time you ignore others while they are saying something. That's the misery of your communication skills. You are trying to pretend you are the best and without any information or instructions, you can perform any task.
This works only for some time and other times you lose. So for the next time if you want to perform a task perfectly. Don't lose the conversation while paying attention to the shared information. This way you are not just increasing your productivity but also making a positive impact.
This sequence might be different for you but the moral of the story is the same. start applying it right away and one day you will be rewarded unconditionally.
Conclusion

:
There will be ups and downs in your life. It's totally up to you, how you are going to handle them. Keep motivated, always try to add value without expectations and you will definitely get rewarded one day!
Hope this article will guide you on a different path than you were following before today.
See you next time.
Cheers
Mayank Pandey