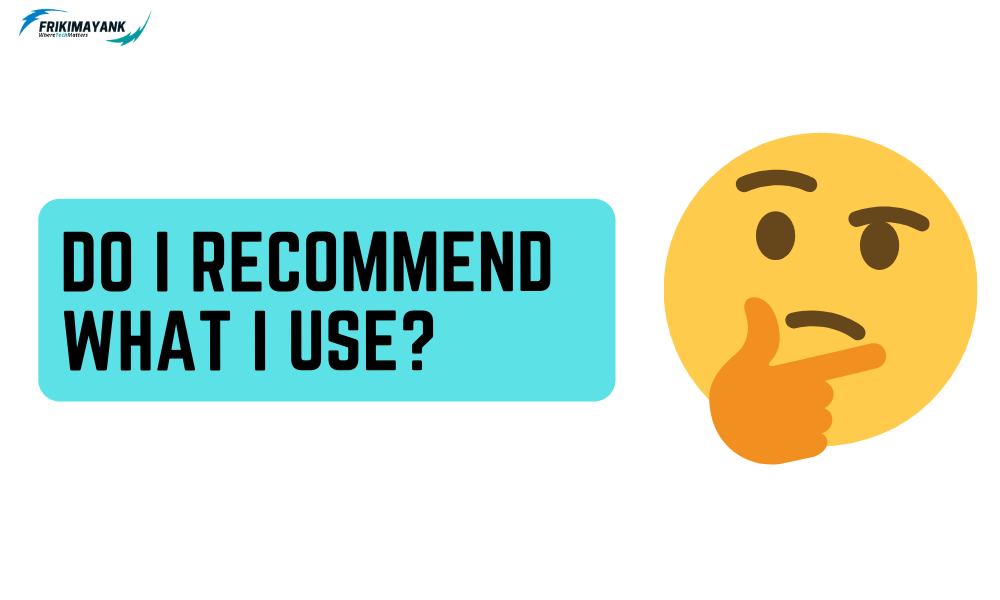 Do I Recommend What I Use? (3 tips to buy online)
[vc_row][vc_column][vc_column_text]
Tips to buy online. If you have seen my youtube channel. You probably find I talk a lot about gadgets and how they work. And I also know there are also other channels doing the same. But what is the difference between me and them?
Hi, This is Mayank Pandey, a product engineer, innovator, digital marketer, and entrepreneur who is helping students, entrepreneurs, and small businesses to achieve their dream goals with deep branding.
I'm going to break all your myths today. You are going to get all the answers related to the review industry. I would be solving the biggest mystery of your mind.
Here are a few questions I will explain to you:
Why do people make reviews?
How to select a perfect reviewer?
Should you believe these reviewers?
Do I recommend what I use?
Tips to select and buy a product
Before moving forward if you are a first-time visitor. Have a look at the content depth of my website. I write about technology, entrepreneurship, personal growth, and digital marketing. Yes, you can Subscribe to my weekly newsletter it is FREE.
My website has a lot of content related to technology and tips and tricks and some electronic products and counting goes on.
All this content is either technical reviews or best product list or some random products or value articles.
I reviewed it, cooked content, put my time and efforts into designing and arranging, and then posting on my website. A lot of effort was made.
But No one asked me to do that. have you? No.
Then why am I doing this? What could be the reason behind all this?
And this is going to be covered under the 1st question.[/vc_column_text][/vc_column][/vc_row][vc_row][vc_column]
1. Why do people make reviews?
[vc_column_text]
I have to put this much effort into creating a blog post then for sure YouTubers are putting more effort into their content. I also have a youtube channel named FrikiMayank and I know what it takes to make a video.
 And after all of these efforts if I'm not getting anything for my time and efforts. Then why would I do that?
People often do reviews for any of the below reasons, including me.
Every company has salespeople who usually sell their products and make salaries and incentives. Similar to that online company hires associates called affiliates. 
They usually sell their products by advertising them on their channels and get a little commission on that. The commission depends on the category of the product.
This is my type of option. I review for passion. I love electronics and buy a lot of products every month. Most of the products die, due to innovation and experiments on them. So rather than experimenting with all of my products I make reviews and videos on some of them.
I get a commission on that if someone uses my affiliate links to buy products (you never pay extra while buying). Which covers a little bit of the cost of my future items for review and experiment.
These people have no choice. They got popular somehow and now they are money slaves. You just need to throw some money at them. And ask them to write about your product. They can even elaborate garbage so well that you think it would be useful for you.
Broadly these are 3 types of reviewers out there in the market. They can be available on any social media like Facebook, Instagram, Youtube, or other platforms as well.
Now the question arises on the credibility of these reviewers.  And that will lead to our second question:[/vc_column_text][/vc_column][/vc_row][vc_row][vc_column]
2. Should you believe these reviewers?
[vc_column_text]
Yes and No.
Am I confusing you? Yes, I know.
"Whatever shines can not be the Gold."
On that note, you need to pay attention closely. While reading or watching a review and making a perception about any product or service.
Reviewers are definitely putting efforts to make videos, writing reviews, and making social posts to engage you. But few of them are only doing it for the money while others are sharing their passion with you. Identify the content, identify the quality of the reviewer and stick to that.
A question arises here if the answer is Yes and No, both. Then in believing these reviewers then how can you find a perfect reviewer?[/vc_column_text][/vc_column][/vc_row][vc_row][vc_column]
3. How to select a perfect reviewer?
[/vc_column][/vc_row][vc_row][vc_column][vc_column_text]
Finding a perfect resource is not an easy task. But once you find it, you can always follow that.
To select a perfect person, you can follow the below-given points:
Has it ever happened to you? When you are saying something right but a friend or family member is trying to deny that? If yes, don't worry. It also happens to me.
People even who don't know the ABCD of a product or service I'm using. They tell me what are the pros and cons with the product.
I just ask them a simple question. Have you ever used this product for yourself? Most of the time they ended up saying No. 
The same happened with fresh reviewers. You need to check if the reviewer has perfect knowledge about the product. And that can be verified by checking his Niche. Niche is an area in which a particular creator makes most of the content. For example, it could be Smartphones, Wearable electronics, apparel, Makeup, etc.
Have you seen my videos or some recent articles?
They are in-depth because I took 3-4 days to write proper content, analyze it, tweak it as per viewers, and then deliver that. A reviewer is called the best reviewer when he is best in his particular skill area
If you watch technical reviews of smartphones and other electronics. There is a guy named Jerry. He performs the breakdown of all the new smartphones out there in the market. I recommend you to visit his youtube channel and see the depth of videos and simplicity. He is going to tell you what are the parts used to assemble a product. How to open that product? And what does it look like from the inside?
That is the thing that makes him different from others.
Now coming back to me. You know me. Maybe little but you know it. And if you don't know, then you haven't Subscribed to my Newsletter yet.
fill in the details and Subscribe to it now
Coming back to the point. Do I have the knowledge about the topics I'm sharing with you? And am I a perfect guy to read and follow?[/vc_column_text][/vc_column][/vc_row][vc_row][vc_column]
Am I a perfect guy to read and follow?
[vc_column_text]
Here is my short story. In this short story, you will get a better picture of me.
Why should you read my blogs?
What topics can you learn from me?
I am going to tell you my story in small cases. So you will have a better idea. When did I start and how much experience do I have in a particular area to share with you.
Case 1:
I'm an electronics engineer and since my childhood, I have had an interest in the same field. At the age of 7, I started making small electronics projects for myself and for others.
My curiosity in this field started when I broke my video game and every technician in the area refused to repair it. Because they didn't have that particular bus wire used in the video game. Which connects the remote area to the main PCB to play. And since then I'm doing innovations in the electronics domain and still doing it.
Got 2 silver medals in school time in the field of physics and electronics.

State-level winner in college electronics fairs.

Made innovations like Tech Glasses and Nimactive car and received medals from District Magistrate

Conducted few seminars on IoT and electronics in front of 300 – 400 students

I have made more than 100 minor and major projects in electronics so far and still growing
Case 2:
When I was in 10th standard (in 2012) I used to resell sound products such as earphones, headphones, multimedia players, etc. This gave me a lot of knowledge about sound products. How do they work and some quality parameters?
Here is a secret. I'm Mad about Music. I have more than 30 good-quality earphones and headphones starting from ₹300 to ₹30,000. I have used all the categories.  I also worked as a Product Engineer in the development of sound products like Bluetooth speakers, Bluetooth neckbands, and headphones. With a reputed brand Intex and Ivoomi.
That's the benefit I use to suggest you a perfect audio product.
Case 3:
Since 2018, I have worked with 2 different reputed companies 1 national and 1 international for the development of customized display screen products. (You can treat it like a customized tablet that has everything customized for you. From screen to speakers to buttons and interactions.)
Which gave me knowledge about different kinds of screens like TFT, TN, LCD, LED, Matrix a lot of them. The technologies used to run them. How they are operating and driving conditions. How are they manufactured and how to get a custom display? A lot of knowledge about tablets, mobile phones, wearable, laptops, and even large signage displays.
Using this knowledge I can assist you in choosing a perfect product that consists of a display screen.
I have explored a lot of fields and absorbed knowledge in different domains. Someday, that I will share with you in another post. Otherwise, we would be out of topic.
Now, I hope you got some confidence and trust in me. And we can move to our next important question.[/vc_column_text][/vc_column][/vc_row][vc_row][vc_column]
4. Do I recommend what I use?
[vc_column_text]
The answer is definitely, Yes.
As you know I have a lot of interest in electronics and music. I do only share either what I have experienced or what I have purchased to test that out.
I test each and every product, in the long run, to get the most out of it and then share my views. That's why I'm not into writing or filming unboxing content.
My content is pure technical experiments and their outcomes. If something is worse I never say that good. I throw it and ask the manufacturer to improve it either via software or the next version of the product.
Here I'm sharing with you some examples. Then you would have a clear vision of whatever I'm saying.
In my blog, I suggest the Mi Band 5 as a top wearable smart band. That's why it is no 1 on the list.
Now you might be thinking, do you even use it? Yes. Let me share my Mi Band Purchase history which I made since the Mi band 2 launch.[/vc_column_text][vc_single_image image="11150″ alignment="center"][vc_column_text]
Have you seen my WH1000XM3 teardown video on youtube? That I made in 2 parts.
Now check my shopping history. So below are the results for Sony.[/vc_column_text][vc_video link="https://youtu.be/iJryKzlAj1o"][vc_column_text]
I made a video on YouTube called Should you buy ROG Phone 2 in 2020 or not? Here is a link to that https://youtu.be/otQ7K6ol4Po[/vc_column_text][vc_single_image image="11145″ alignment="center"][vc_single_image image="11148″ alignment="center"][vc_single_image image="11149″ alignment="center"][vc_single_image image="11147″ alignment="center"][vc_column_text]I made a lot of electronics purchases. Not just to test out and review but also I have a passion for electronics.
Although I can't describe all my purchases. I'm listing a few of them to just confirm the credibility of my reviews on frikimayank.com and on YouTube channel.[/vc_column_text][/vc_column][/vc_row][vc_row][vc_column][vc_column_text]I hope the above orders are enough to set a credibility score. And now onwards you don't need to panic while reading my reviews or buying a product from my recommendation.
I judge each and every product on very strict parameters. If it is not used by me it has been used or being used by any of my family members or friends. Every recommendation is a test result of purchase and experiments.
I buy all the products at their best prices when they are easy to fit in your budget. For example, I bought a brand new earphone worth ₹9000 at just ₹2200
I got an ₹33,000 priced phone for ₹28,000
Bought the ₹4000 worth at just half of the price
I know you are getting excited to know. How am I doing it? So here are my tips for online purchases.[/vc_column_text][/vc_column][/vc_row][vc_row][vc_column]
5. 3 tips to buy online smartly
[vc_column_text]
Tips to buy online | Selecting a perfect product
Select the product wisely
Most of us buy a worthless product. Someday you might watch a t-shirt and then rather than a t-shirt you end up buying a watch. So keep focused on whatever you are watching.
I always buy products in advance. Do you know what it means?
It means for recurring products like groceries, personal care products (face wash, mouthwash, etc.), I buy them in advance. In the place of 1, I place an order for 2 when it is best at its price. I'm a hardcore Amazon buyer from 2014. And I learned most of the pricing of my products. That's why I know when they are good and price and when to purchase.
You don't need to put effort into learning pricing. Just follow my posts and content. You will get all the products at the best prices. Or you can use some online price tracking tools or apps.
Watch out for discounts and coupons
As I made a lot of purchases, It's not always too wise to pay in full. You can also look for seasonal discounts, card discounts, and different coupons.
Example: I always paid my postpaid bill on Amazon and never paid full. Always managed to get a ₹50 discount.
So you need to pay attention to the pricing, products, and features. [/vc_column_text][vc_column_text]If you are following my blog and post. You don't need to care about anything. I occasionally update posts and listings with the best prices and coupons. And also share the best offers.
If you haven't signed up for a newsletter go and sign up now. I'm making a telegram group soon to push you all the best deals and discounts which stay for a Limited Time.
If you are here at the very end of this post. I'm pretty sure you enjoyed the content and got an idea about selecting your reviewer. And how to purchase online.
On this note, I'm signing off and I'll see you in the next post.
Keep healthy and keep smiling
Happy Shopping!
Cheers
Mayank[/vc_column_text][/vc_column][/vc_row]