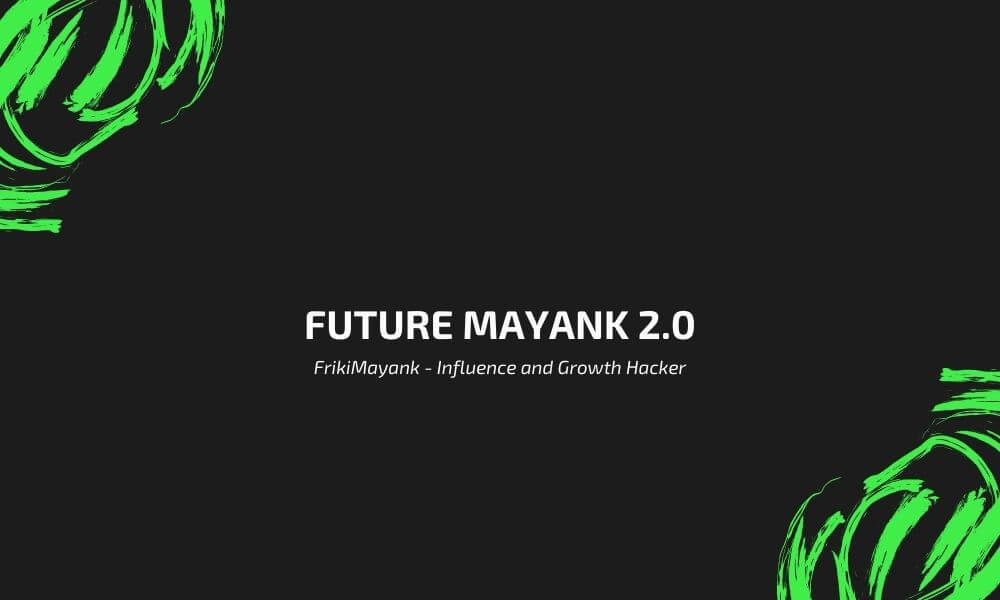 In our entrepreneur series, I have written about many entrepreneurs who are successful, passionate about their work and doing great jobs in their respective fields.
In today's article, we are going to read about Mayank Pandey, a self-made entrepreneur who is not just a company owner also a tech enthusiastic, passionate, nature lover, devoted and digital frik.
He is a man who became zero to hero, earlier who used to sell headphones to local people is not helping international clients. The guy who was always insecure about his tomorrow because of changing markets became a market leader and helping others to grow.
Mayank is basically from Lakhimpur Kheri, UP, after completing his 12th he shifted to Delhi for higher education. He completed his B.Tech in electronics and communication engineering and started doing a job immediately.
The thought of "helping people and making technology available to every group of people" always poked him. From childhood he has plans in robotics, to give people such gadgets which can ease human life and at a very minimal cost.
In school days he made a few projects Like Nimactive Car Model (Fuel saving car concept which can reverse up to 60% of fuel – 2012), Tech Glasses (A multimedia glasses, packed with calling, massaging, lighting, map navigation, multimedia features on the go 2013) for these models he got huge recognition and honored by District Magistrate.
After seeing his interest in technology, his family sent him to a college of BTech. After joining the college in 2014, Mayank was out of the crowd busy in innovations and satisfying is why? although he was never a regular class boy but in each and every practical lab he was 1st to attend. He did more than 100 cool electronics projects in the span of 4 years of B.Tech. In the final year when other students were submitting old models and projects, he submitted a latest 4 layer security system which was never implemented before.
All his experiments and innovations impressed his college so much. The college Director and Dean offered him a job of being a guest lecturer for their students to teach electronics and practical technology. Due to being too passionate about current job he was unable to carry that longer.
After a few months of experience he started his own electronics venture in 2019, in the starting everything was good and getting a pace, but due to lack of experience and team, progress got slow down and the hit of CoVid-19 stopped everything and the company went on ventilator in 2020.
So now the real question arises, "How a company uplifted revenue from Zero to crores?"
When we asked the same question to Mayank, his reply was simple. He took a simple name "Digital Deepak" and told he didn't have words to praise the energy, empowerment, willingness, mentorship. He is the most important person to make his company grow in the right direction, he told me the right and wrong paths, he showed me ways to execute everything I have. And "I'm highly thankful to Deepak sir's life changing internship and mentorship", added Mayank in his words.
Mayank is now making crores of revenue from nothing to everything, as a digital guy. Guy whose company nearly died is now giving opportunities to people to join him.
Currently Mayank's company is serving national and international clients and helping them grow. In the digital domain his company is doing a very great job, as per their customer oriented policies, valueful services and on time support they are becoming more popular among their customers.
In a discussion with Mr Mayank on last 03 Aug 2023. He informed us he is coming up with more digital services in the connected world, currently the company which is generating ~9 crore of revenue is being ready to 5X their revenue in the upcoming 2 years and 10X in next 5 years.
Rather than this Mayank is also planning for epidemic hospitals, which can provide better services to people in the time of epidemic crises at the cheapest rates in India.
I hope a good journey to Mr Pandey and his company!
Thanks for being with me and reading this article, I will meet you in a new article with a new story. Thank you